»
»
»
»

Soundproofing door - PM 43
Soundproofing door - PM 43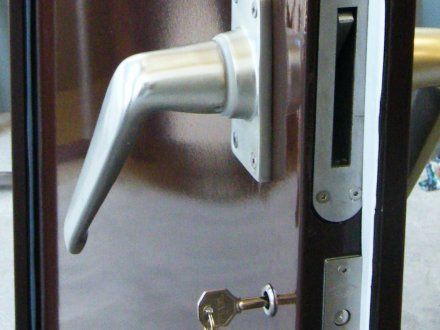 Acoustically tested
Airborne noise
Customisable
Guaranteed result
Indoor use
Made in EU
Soundproofing
Acoustic metallic door with 56 mm of thickness, including the frame all around the edge. It contains a heavy core and two absorbent chambers totally filled with M0 classification fire material.
With self-opening system / manual closing in aluminium wedge and double seal in special profile all around the edge.
PM 43 is applicable for recording studios, cinema rooms, auditoriums, machine rooms and multiple industrial premises where strong soundproofing is required. Sound insulation index Rw = 46 dB.
For additional technical information, please contact us at sales@decibel.bg
Standard dimensions
| | |
| --- | --- |
| 700x2000mm | 70kg |
| 800x2000mm | 77kg |
| 900x2000mm | 83kg |
| 1400x2000mm | 117kg |
| 1600x2000mm | 130kg |
| 1800x2000mm | 141kg |